It's Sunday. I finally got the chance to sleep in a bit. In just a week, I was lucky to participate in three amazing events that were started up by three amazing tech/startup communities. It's probably not something that will be heavily featured in the news, what with the game of political thrones going on and the weather going crazy on us. But at least I can dedicate a few lines on my blog to these wonderful little things that are happening all around us and might even end up being more significant for our future than the latest puppet occupying the throne.
1) Rails Girls are taking over Slovenia
This amazing week started last Saturday. The 4th Rails Girls workshop in Slovenia took place at the Faculty of Computer Science in Ljubljana. In total, we have received over a thousand applications for these workshops in Slovenia. An amazing figure considering how worried we were about finding 20 women to apply for the first workshop we did in Ljubljana back in December 2012.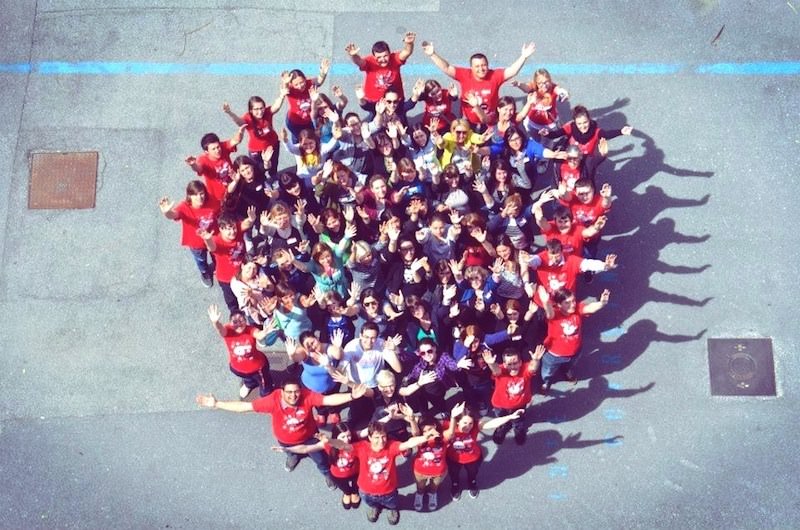 Turns out, women do indeed want to learn more about technology. It is however still unbelievably challenging to get high school girls interested in Rails Girls workshops, despite all the good buzz we've been getting. We have no problems getting applications from students, who are already realizing how important digital skills are. But girls aged 17, 18 or 19 still need more convincing, and we haven't yet found the magical formula for getting their interest.
On the plus side, I was once again humbled by how many coaches volunteered to help out at the workshop! We ended up turning people down, and didn't even have to do a big search for coaches. In fact, we even tried not to promote the need for coaches too heavily, because the spots filled out so quickly. And I'm even more happy with the fact that this year, half of our coaches were women.
This year was also special for me because I finally ended up doing some coaching myself. I usually end up running around, making sure everyone's got what they need, but with such a great team around, I was even able to jump into coaching for a while, and it was an incredibly rewarding experience. I now fully understand why Rails Girls coaches keep coming back and why the new coaches (a lot of CS students this year) said they wanted to do this again. It's just incredible to see the spark in the girls' eyes when they create something on their own.
2) CodeCatz building Europe Code Week's events website
Sparks sometimes need a bit more attention to turn into full blown fires though. Which is why part of the Rails Girls Ljubljana team came together last summer and started CodeCatz, a coding club for women. We meet almost every Wednesday at Zemanta for at least 3 hours, eat a lot of chocolate, and learn about programming together. We started Learning Python the Hard Way, did the Django tutorial, and then realized we needed to tackle a real-world project together.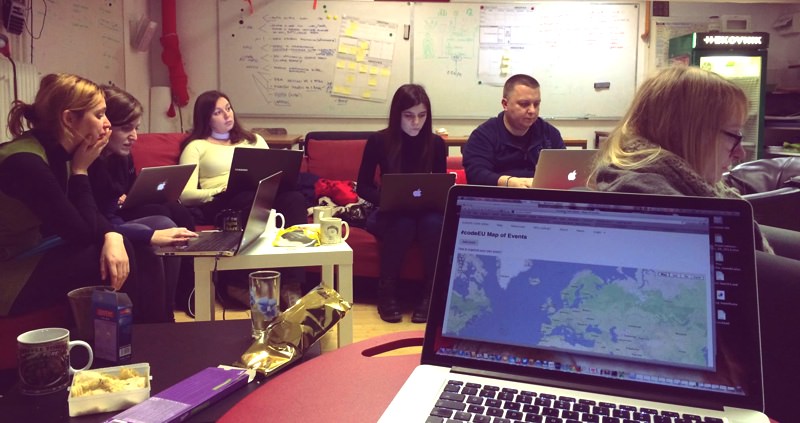 So we took upon the task of building the new events website for Europe Code Week. The website is now live at http://events.codeweek.eu and it's exciting to see the first events already being submitted. To celebrate this big milestone, we even had a proper launch party this Friday at Hekovnik.
CodeCatz is still a small group, but I think we've started something important here. For one, we created a small little community that has already significantly increased the presence of female speakers at the recent WebCamp in Ljubljana. And next week, our doors will open for new Kittens, mostly girls who attended recent Rails Girls workshops. We can't wait to meet the new girls and start working with them from the beginning. And we can't wait to start building new exciting projects together. Maybe we'll have another big launch party by this year's Code Week in October?
3) High school students are starting their own companies
Finally, this tiresome, but inspiring week ended this Saturday. I was invited to talk about the importance of programming skills at the final event for high school students, who participated in Ustvarjalnik's entrepreneurship clubs at high schools all over Slovenia. This year, they have spread out to 52 high schools and taught 1,200 young people about entrepreneurship, startups, thinking outside of the box, and about taking the future into your own hands, not waiting for jobs to fall out of the sky.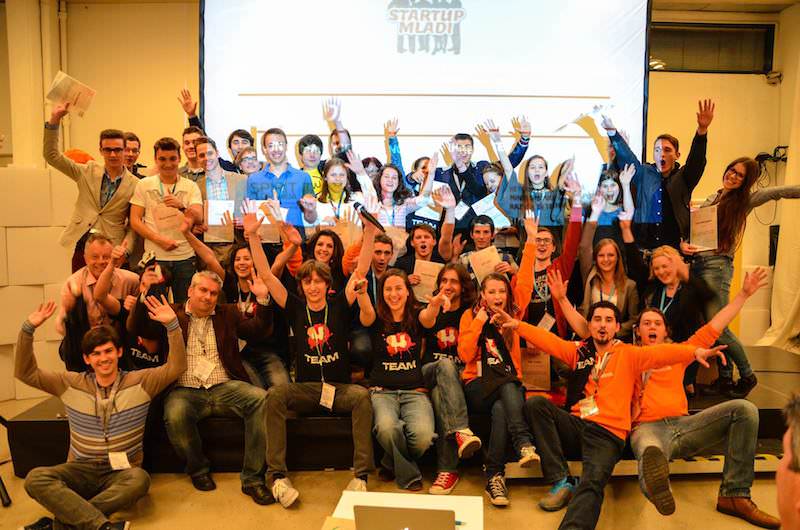 Part of their final event was also a startup competition, and I was lucky enough to be one of the final judges. All the participating startups were formed by teams of high school students, but you wouldn't really know it if you just came to listen to their pitches. I've been at many startup events, and these were some of the best pitches I've ever heard. Great stories, great performances, and great ideas.
When I think back on my own high school years, I don't think I would have been able to stand like that on the stage and deliver such a great pitch. These youngsters have drive, and are willing to dedicate themselves to their ideas. They build really impressive prototypes, and the winner, WiVu, even has a real app published in the App Store! I've seen quite a lot "grown-up" startup teams giving up before release date.
… it only takes a little spark
Yeah, what a week. I didn't get much sleep, I had to skip a few runs, but I was filled with hope. I was humbled, I felt proud of my friends and the communities we've been building by just getting out there and doing stuff. We improvise a lot, we volunteer a lot of our free time (time we often don't even have), but we end up creating sparks.
And it's wonderful to see these little sparks starting real fires. Not destructive fires, but fires that create welcoming light and warmth. The kind of light that attracts people, that makes people better. This is one key thing to keep in mind. We need to create more sparks, more opportunities for great ideas to flourish, for communities to be born. And it all starts with these silly little ideas or just a tweet.
Irish Minister Ciaran Cannon also wrote a great blog post this week on Neelie Kroes' blog about how a tweet from Irish EU Code Week Ambassador Julie Cullen created a great movement in Ireland: Guest blog: the lasting legacy of EU Code Week. Again, the word humbled comes to mind.