The wearables and apps I use for self-tracking (Part 2 appendix)
As part of my quantified self series, I also wanted to share a list of tools that I've used for an extended period of time in the past couple of years to track my activity, sleep and more. I often get asked about differences among trackers and for buying recommendations, so I've also included a short review of each.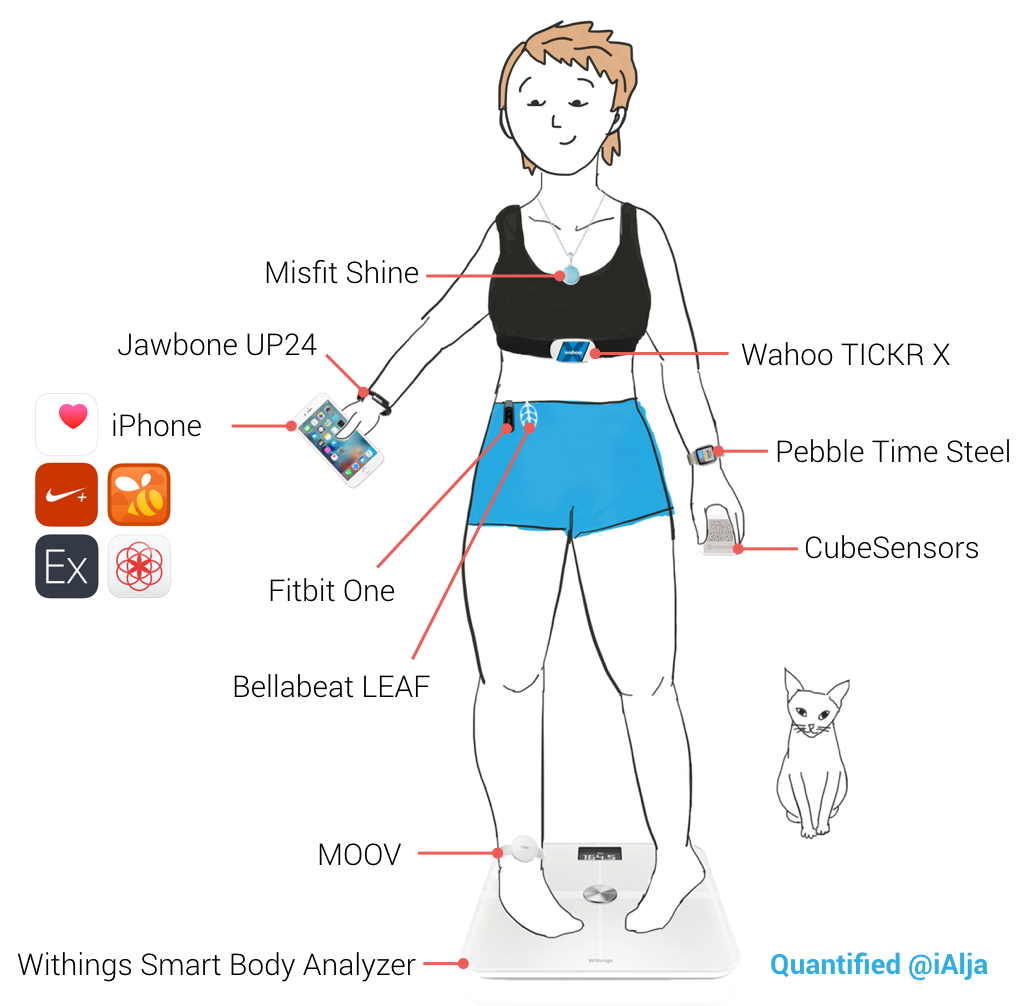 Personal activity and sleep trackers
Note: The ones in bold are still in daily use at the time of writing.
Fitbit One: You never forget the first one, eh? Fitbit One has been my loyal companion for over 3 years now. Fitbit has great customer support, a loyal community, and the One is a decent tracker that even counts the number of floors I climb each day. It's easily hidden when clipped to my jeans pocket or underneath clothes (although I did almost lose it once when taking keys out of my pocket). Most of my friends with trackers have a Fitbit, so it's certainly a great choice if you'd like to compete with friends. I do find the Fitbit app a bit too simplistic though, as it doesn't seem to do anything special with the data it collects.
Jawbone UP24: Speaking of apps, I find the Jawbone UP app to be the best at providing helpful advice through its Smart Coach. I love the band's Smart Nap functionality that helps me take short power naps of just the right length. I stopped using the UP24 after a malfunction, but I've now upgraded to the new UP3 with heart rate monitoring becasue I really think the UP app is one of the bests at interpreting the data right now. (Note: If you want to try out Smart Coach, Jawbone offers an UP app that works without their hardware and uses data from your smartphone.)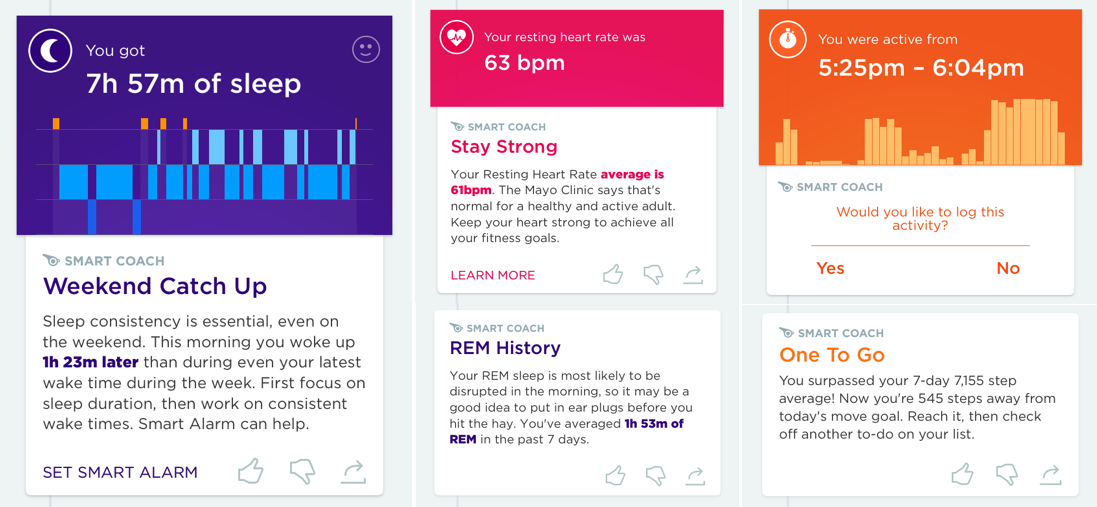 Note on accuracy: Generally speaking, the wearables on my wrist measure about 1.000–2.000 steps more than the ones that are clipped onto my body, but they're consistent in their differences. They're not really super accurate when it comes to estimating distance, so for running I always use a GPS watch or app.
Specialized activity trackers
Nike+ running tracking: One of my first activity trackers. I went from the Nike+ shoe sensors with iPod integration to the Nike+ GPS Watch, and I've also been using the Nike+ iPhone app lately. There's a lot of other alternatives like Runkeeper and similar, but I like the fact that I have the option of running without my iPhone when I want to.

Wahoo TICKR X: A chest strap heart rate monitor that I use mainly for exercising on an indoor spin bicycle, but I also take it out for runs. I like it because it supports a wide range of sports and because it also works when I run without my smartphone. If you're looking for reliable heart rate measurements during exercise, chest straps like the TICKR X is still the way to go. You do have to remember to put it on before your workout, but I find it surprisingly comfortable to wear. And you can even double tap it to control music playback on your smartphone, which makes me feel like Tony Stark.
MOOV (1st gen): A little tracker that can be strapped to your ankle to monitor your running form. Other sports are also supported, but I've only used it for running. It can be useful to get regular reminders regarding your running posture, but it's not something I want for every run. Might be more useful for beginners, who want to improve their cadence.
General health
Withings Smart Body Analyzer: A sleek looking WiFi connected smart scale. I like the fact that it recognizes and supports different users (including the cat), even though its body fat and heart rate measurements are not always super accurate. Still, it's a great way to keep track of your weight over time.
Clue: A pretty neat app for tracking your menstrual cycle that is HealthKit compatible. Apple has finally decided to add support for female reproductive health in the latest HealthKit update, although I'm still looking for fitness apps that would take this into account.
Location
Foursquare/Swarm: Still a great choice for location tracking. I've been using it for a few years now, so the app is a great log of where I spend a lot of time and the places I've traveled to.
Environment
CubeSensors: A totally biased choice, given that I work for CubeSensors, so it will come at no surprise that I've been using a lot of Cubes all over my flat, both for testing purposes and to monitor my own environment.
Withings Smart Body Analyzer: The scale also monitors temperature and CO2, but it's quite limited by its position on the bedroom floor, so I don't really look at those measurements that much. I like the fact that the scale shows me the daily weather forecast in the morning though.
Note on environment tracking: while a lot of aggregator app include weather data, I haven't really seen apps that also support indoor environmental data. Looking forward to seeing that as connected sensors become more commonplace.
Productivity
RescueTime: A desktop app that tracks software usage and time spent on different websites. It's a great tool for quantifying your productivity and also encourages you to spend less time on distracting websites.
Data aggregators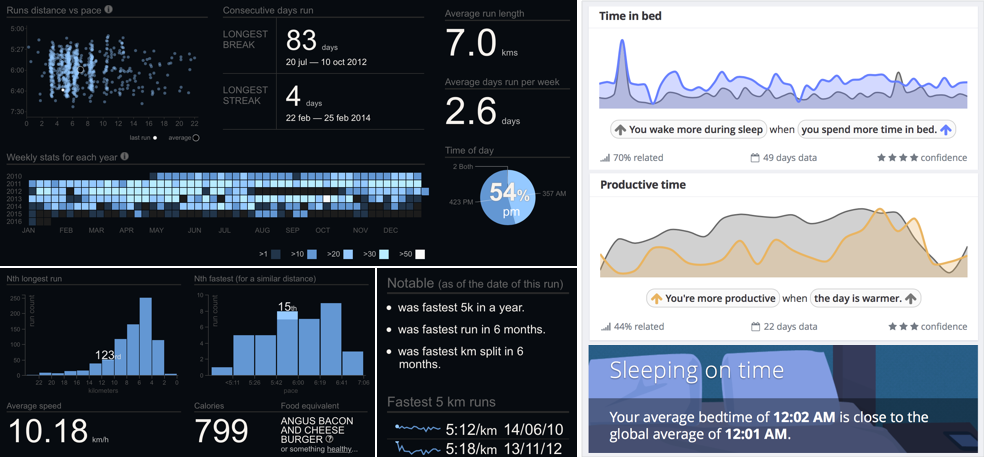 If you want to find out more about why I've been using these tools and what they've helped me learn, head over to Part 2 of my quantified self series.